NTC E SIM in Nepal
Recently, Apple launched the iPhone 14 which has one feature that is new for Nepal and other countries.
Apple added E sim features, without E sim iPhone will not be able to open. so iPhone 14 needs an E sim. and the User wants to buy an e sim for iPhone 14.
What is E sim?
You can connect to any operator providing eSIM services using an eSIM, which is a SIM card that is embedded in a mobile device. Additionally, the eSIM functions similarly to a conventional SIM card without requiring a real SIM card to utilize it.
E sim: Embedded Sim
NTC E SIM in Nepal
For the first time, Nepal telecom launched e-Sim in Nepal. On 31 st of Bhadra of 2079, Ntc provides E sim from Sundhara branch of NTC.
NTC provides free pre-paid or Postpaid customers.
How can you get an Ntc eSIM for your phone?
Existing NTC customers must complete out a form and send it to the firm in order to obtain an eSIM.
Users with supported devices will be able to use the eSIM cards. For current customers, Ntc will give away free eSIM replacements in exchange of physical SIM cards. The corporation would charge the same amount as it does for conventional SIM cards for a new number subscription.
Ntc collaborated with Monty UK Global Limited on the eSIM service. Additionally, the operator inked an MoU with Monty UK's regional partner, Ultimate Horizon Technologies Pvt. Ltd. The business has given Ntc the infrastructure it needs to launch its digital SIM service.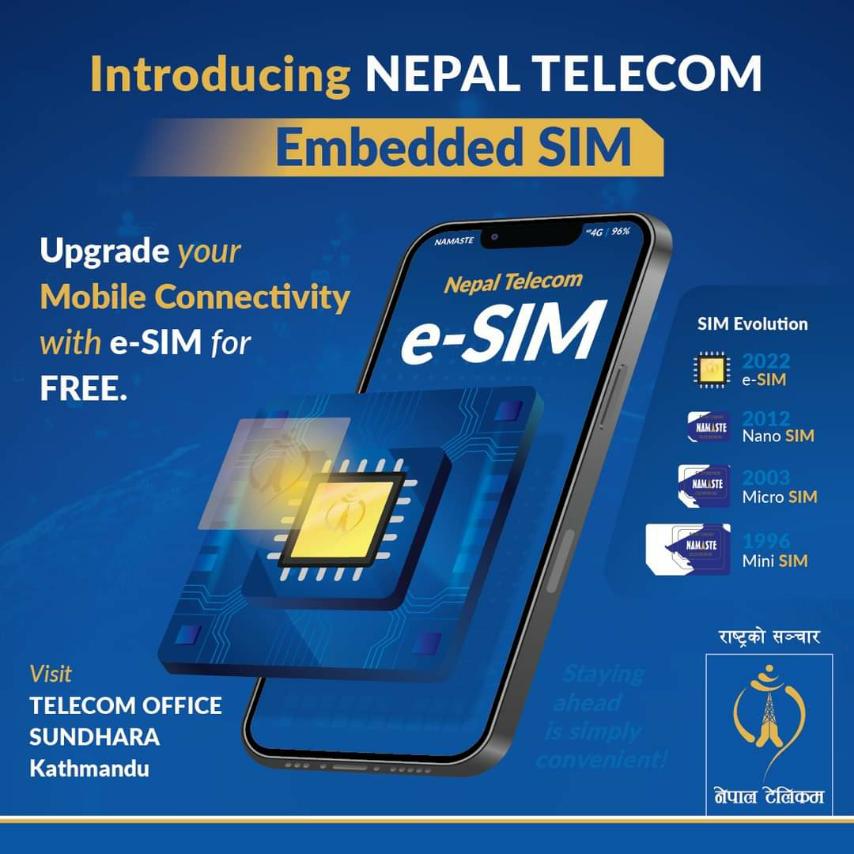 Regular SIM cards have a specific slot in smartphones. On the other hand, its improved digital counterpart is directly transmitted to the phone's chip. To activate the digital SIM service, you require an eSIM profile. It provides phone manufacturers additional room, which they can use to add a bigger battery or create lighter gadgets. Additionally, an ESIM offers a lot of appealing benefits. We go into greater detail below.
Advantages of using eSIM Cards
Numerous benefits come with an inbuilt SIM card. See some of the main advantages of an eSIM below.
makes switching between networks simpler.
While traveling, you can temporarily switch between various telecom networks to avoid paying roaming fees.
Use a single device to access several phone numbers without a dual SIM phone.
It allows for a streamlined design and takes up less internal space in the phone.
Concerning physical SIM card damage, there is no requirement.
For More; Visit Feedsglobal's Homepage